Retainers are either removable (you can take them out of your mouth) or fixed/permanent (you can't take it out, but I can).
Removable retainers
There are a myriad of designs for these. I generally use one of two types:
Hawley or Essix.
The Hawley retainer design that I use looks like the picture below.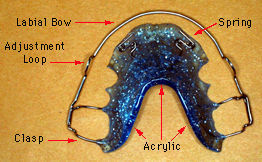 The Essix retainer is clear (and looks similar to a clear aligner used to move teeth):
Fixed (permanent) retainers
These can generally be done only for the lower teeth, unless your upper teeth are tall enough and/or your overbite is shallow enough (if not, you won't be able to close your mouth all the way). The image below shows it on upper teeth.
Healthgrades
has a good review of the pros and cons of these types of retainers, that generally applies to what I do. However, there are additional "cons" to permanent retainers not listed on their site:


The wire is bonded to your teeth. The bonding can wear out or break over time. You may, or may not be aware when this happens. If you are not aware of it, your teeth will move.

The wire itself can break. You may or may not be aware of this, depending on where the break is, and how often you floss (to be able to feel that there is a loose section.)

The wire needs to be heat treated to remove the memory from the wire prior to being bonded in. If not, it will move your teeth.

There are case reports in the literature of severe root movements happening even with heat treated wires - causing periodontal damage and even tooth loss. We (as a profession) have no explanation as to what could be causing this, since theoretically there is no activity in the wire.

These are much more difficult to clean with. Depending on your anatomy, it may or may not be possible to clean well by your gum line, and you are much more likely to collect tartar (calculus) around it.

For all of the above reasons, you need to have a dental professional check the permanent retainer at least every 6 months.